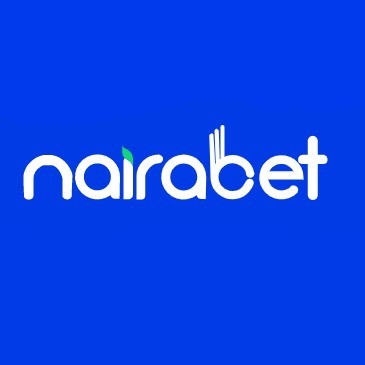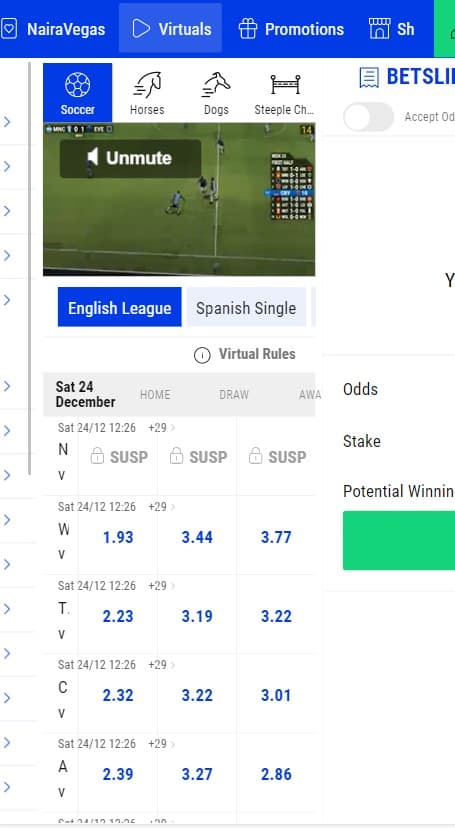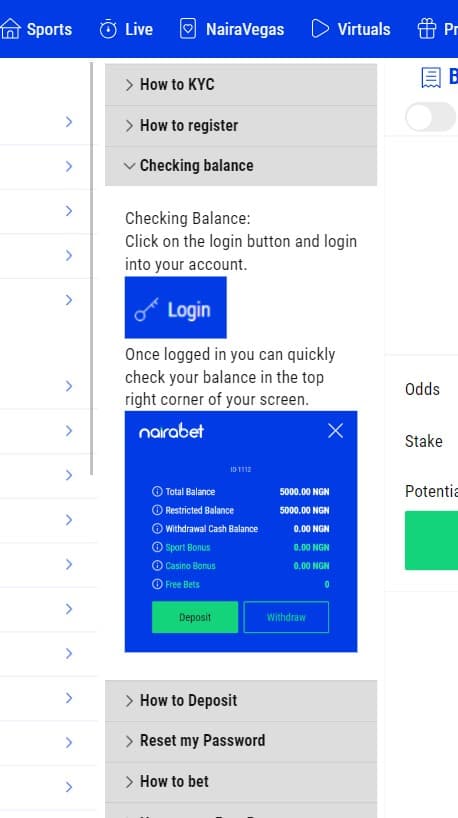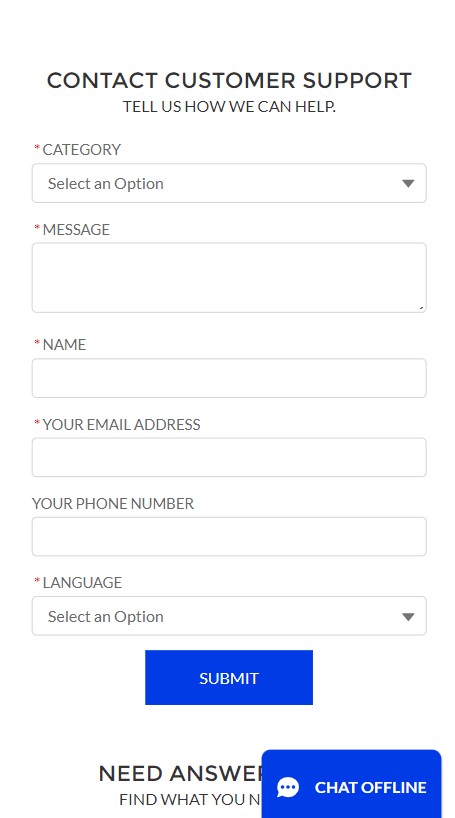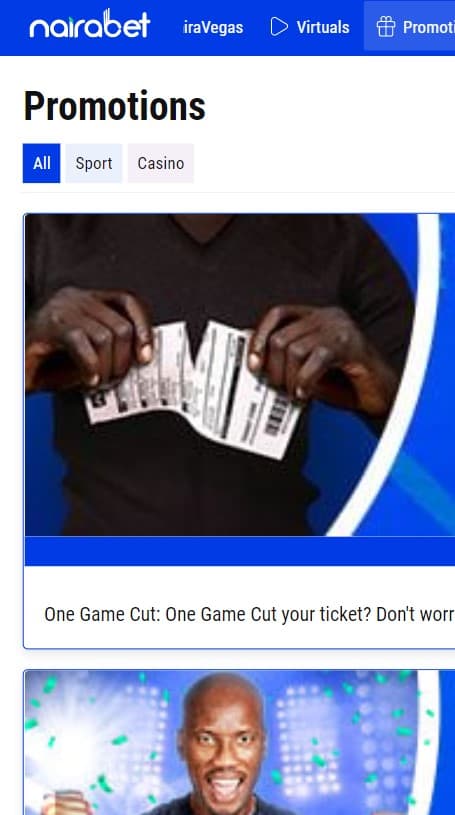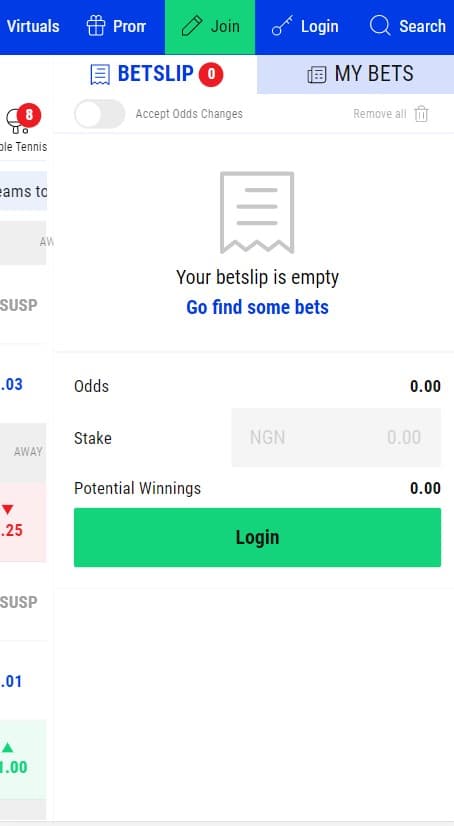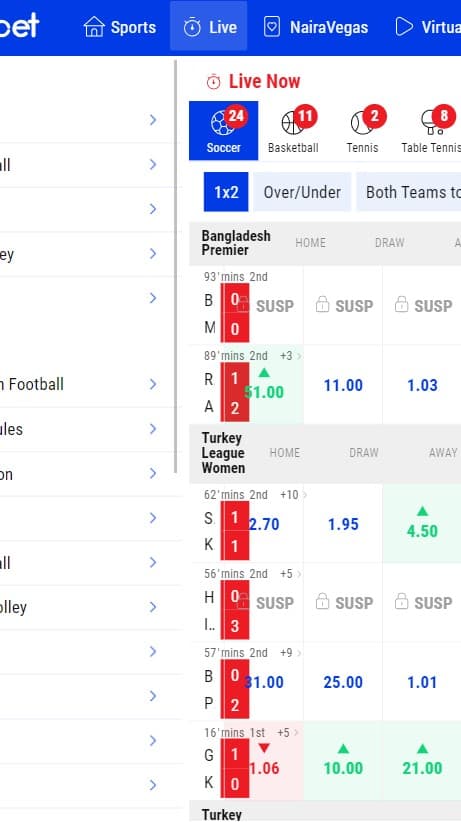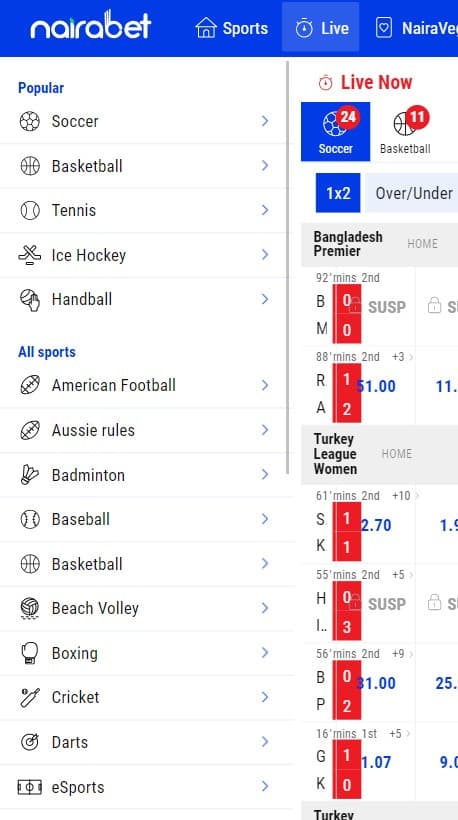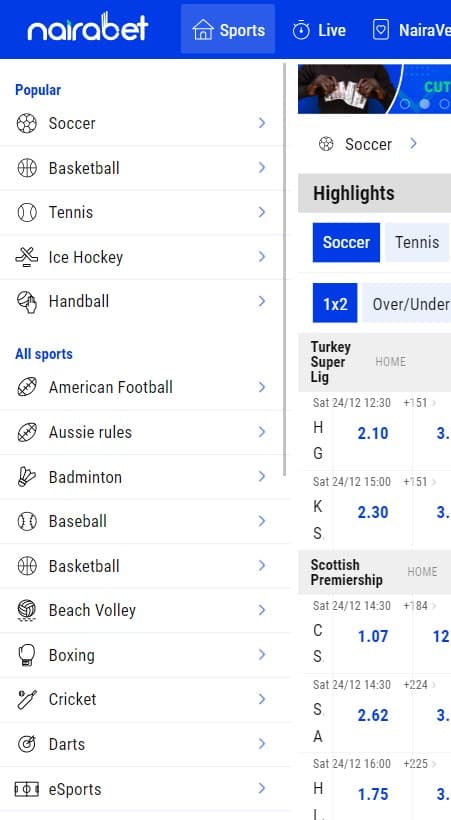 Are you interested in downloading the nairabet app? Fancy placing a bet on your phone, anywhere, with an internet connection? In this review, we'll cover lots of details about how you can get hold of the nairabet apk, what you can do with it, and the benefits of having it.
But first, here is a quick table of all the basic information:
| Appendix | Nairabet APK |
| --- | --- |
| Version APK | 1.0 |
| Size | 21.93 MB |
| License | National Lottery Regulatory commission. Association of nigerian bookmakers |
| Compatibility | Anrdoid 4.1 |
| Language | English |
How to get the nairabet app download
Getting the Nairabet app is the same as most of the other betting apps. It's not available on the Google Play Store, however, you can download it from the website.
Firstly, go to nairabet.com, and scroll to the bottom. Then, click on "Download Mobile Application". From here, you can decide if you want to download it for Android or IOS. Select, "Android" to download the apk file.
Nairabet mobile registration
After you first download nairabet, you can't jump into playing the games. Firstly, you need to create an account.
In the top right of the app, you will see a button saying "Register." You can choose between registering with your phone or email address. Whichever method you choose, a verification code will get sent to you, which you need to put in or click on before you can play.
Alternatively, you can create an account at Nairabet and enter your login details on the app.
Nairabet mobile login issues. Usually, logging into nairabet mobile is straightforward. You open the app, "Register," and "Login." However, some people have complained that they cannot log in to their accounts via the app. There is little information about why this is the case. But most people just type in their email, phone number, or username, and their password.
How to deposit in the nairabet agent application
Before you can place a bet on the nairabet app apk, you will need to deposit some money into your account.
When you first sign up, the nairabet mobile app will ask you for your bank details.
This is where we have another criticism. They have fewer payment options than most other betting apps, and you can't even pay with your debit card. You can only pay with the following:
Paystack,
Flutterwave,
Xpresspay,
Squadbank.
Near the top of the app, you should see a big green "Deposit" button. After pressing this, you'll get asked how much you wish to deposit. Enter your desired amount, and select your payment method.
Unlike many other betting sites, you cannot deposit with an e-wallet or cryptocurrency.
Welcome and other bonuses on the nairabet android app
After you download naira bet app, you might expect a reward for doing so. In that case, lower your expectations, you won't get it. Unlike most other online bookmakers, nairabet also doesn't offer a welcome bonus. So, don't expect to get anything just because you've opened an account.
Despite their lack of bonuses for newbies, the app offers excellent deals for all users:
Did one game cut your ticket? If you've got a bet slip with at least 10 selections, each with a minimum of 1.20 odds. You will be fine if just one of your selections is wrong. Because nairabet will still pay you your money.
500% win bonus. If you put down an accumulator bet, you can win a bonus of up to 500% of whatever you put down. If you put down $10, you might get $5000 in return.
Lose on Spin Win? If you lose in the "Spin Win" casino game, don't worry too much, as you might be able to claim your money back.
Withdrawing money from nairabet app download for android
After you've placed all your bets on the nairabet mobile app download and the results have come in, you may be lucky enough to have won some money.
If you have, congratulations. But now, it's time to take the money out of your account:
Firstly, go to "Account" at the top of the app.
And then click "Withdraw"- this button should be next to "Deposit." Select the amount you want to withdraw, and if need be, enter your bank details.
Nairabet will only allow you to bet with your bank account; they do not allow e-wallets, transfer apps, or cryptocurrency.
How to place bets in the nairabet mobile app
Of course, the whole reason why you would have downloaded the naira bet app is to bet on sports. You may like to follow whatever is popular right now. You may have a local team, and you want to show your support to them.
Whenever you're betting, the first step is to click "Sports" on the far top left of the app.
When you first go to this page, you'll see a list of the most popular games. For some, this is precisely what they want to bet on. But others might prefer to bet on a specific team.
To find your team, click "All sports." Then select the sport, league, match, and what you predict will happen. Some games only allow you to predict the winner, but others also allow you to predict things like corners, the first team to score, etc.
By pressing on a prediction, you add it to your bet slip.
When your bet slip has all your desired bets on it, be that 1 or 50, click "Betslip" on the bottom right. Enter your stake (that's how much money you want to put down), and click "Place bet."
You must have some money in your account before placing a bet.
In-app casino, esports, poker
In-app casino. Sometimes, you don't want to worry about sports. Whether you've had enough or are not a sports person.
With NairaVegas, you can play live wheel games and slot machines.
In live wheel games, you decide where you want the wheel to land and hope it lands there.
With slot machines, you press the button and hope for the best.
There is very little skill involved.
Although, if you want to use your brain, you can always play live blackjack or baccarat. These are some classic card games you might play if you went into a casino.
Poker. The only poker game you can play on the nairabet apk download is "Poker Picks." This is an automated, online version of poker. It's not the best poker ever, but it's okay to play.
eSports. The nairabet app download apk also has eSports. Unfortunately, they don't have any non-sport video games, such as Dota 2 or Mortal Kombat. However, you can bet on people playing online football, horse racing, dog racing, steeple challenge, motor racing, or table tennis.
Just because no physical activity is involved doesn't mean there is no skill. These people need to train incredibly hard to get to the level they're at.
Odds and margin
Like most online bookmakers, the nairabet app apk download doesn't use the official margins. If they did that, they wouldn't make any profit.
Let's talk about the margins you can expect if you download nairabet for android.
The exact margins are unknown, but we can do some math to work it out approximately. Listed below are the sports we looked at and their average margin:
High-Level football: 101.83%
Low-Level football: 110.35%
Tennis: 107.71%
eSPorts: 108.32%
Handball: 109.11%
Altogether, we found an average margin of 107.464%
Old Nairabet mobile app
The nairabet old version and nairabet mobile new are very similar. If there are any differences, it's impossible to tell since the apk download is available on nairabet.
How to update from the nairabet old mobile app
Go to our page link and click app update.
Technical support for the nairabet application for android
Should you need help with nairabet, scroll to the bottom of the app, select "Help," then "Contact Us."
If you're not in a rush, fill out the form, and someone will get back to you.
If you want to speak to someone, select "Chat with us" for a live chat.
Pros and cons of the nairabet application download
Pros
The layout is nice and easy to use.
They have the sports that most people like betting on.
Cons
Finding the apk download is very difficult
They have fewer sports than other apps do.
They have minimal payment options.
There is no addiction support
There is no welcome bonus.
There is no live streaming.
Nairabet domain com apk FAQs
Is the sportsbook app legal?
They are licensed by the Nigerian government. So, they are legal so long as you're betting from a country that accepts this license.
How to log in to the nairabet app?
To login to the app, go to - Register, Login, and type your phone, email, or username, and password.
Does the app have a welcome bonus?
No, the nairabet agent application download does not have a welcome bonus.